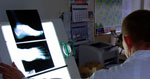 An innovative venture by Kadeco, combining medical advancements with medical tourism, is set to begin in the second quarter of 2010 at the Asbru Enterprise Park in Keflavik, Iceland.
An ex-military hospital in the Asbru Enterprise Park, situated near Keflavik International Airport, is expected to have substantial renovations in the second quarter of 2010. The hospital specialising in fat-removal, joint replacements and other medical treatments will house around 35 hospital beds, three operating theatres and all together have the capability of treating up to 4,000 patients per year.
Housing facilities on the former military base will also be utilised to accommodate patients and their families. The location for the hospital facility was chosen mainly because of the area's vast knowledge and experience of tourism. It is also believed that up to 300 new jobs will be created by the redevelopment of the hospital and its related services.
"The project is definitely one of the most exciting innovative ventures in Iceland at the present time. It will constitute an important aspect of the build-up and development at Asbru. The cluster of health-related services at Asbru will be strengthened through the operations of the hospital, and this will attract even more diverse companies involved in medicine, treatment, health-promotion, research, education and the production of various health-related products, to name a few,"
explained Kjartan Thor Eiriksson, Managing Director of Kadeco.
This increase in medical tourism will be a valuable source of income for Iceland. It is already clear that foreign patients seeking specialist medical treatments outside of their home countries will often travel with family or friends, and remain in the same location for a few days following treatment. This can generate revenues in foreign currencies of up to ISK 3.5 billion per year.
The recruitment of personnel for the hospital's reconstruction will begin in the coming weeks.
For further details concerning the renovation of the hospital facility, medical tourism in Iceland and the Asbru Enterprise Park visit www.asbru.is/english/