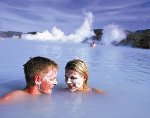 Valentine's Day is almost upon us, but there is still enough time to purchase some last minute gift ideas. Thankfully, Icelandair is here to save the day. The Icelandic airline company is offering numerous package holidays in Iceland that would provide an ideal romantic getaway, and the perfect Valentine's Day gift to surprise your loved one. What could be more romantic than a relaxing dip in the scenic Blue Lagoon or a romantic walk under the magical Northern Lights?
A long romantic weekend in the magical land of fire and ice, surrounded by some of the most beautiful landscapes in the world, could prove to be the perfect Valentine´s Day gift. Experience Iceland's capital city, Reykjavik, beautiful buildings in scenic neighbourhoods, coffee shops and relaxing bars, perfect for a romantic stroll.
With the crisp, clear winter nights comes the beauty of the Aurora Borealis. Icelandair offers a great opportunity to see this magical phenomenon with the Northern Lights City Break. The package deal includes flights, accommodation and an evening coach trip with a tour guide to observe the amazing dancing lights. The tour guide uses the most up to date weather reports to locate the best areas for sightings.
Another ideal romantic break for two is the Iceland Blue Lagoon City Break. This package deal would be the perfect Valentine's Day present as it includes a romantic trip to the spectacular Blue Lagoon. The naturally warm and healthy geothermal water in the middle of a lava field makes the Blue Lagoon an unforgettable and unique experience. Take a romantic dip in the relaxing water with your loved one and enjoy the scenic surroundings before heading back to the hotel for a romantic candle lit dinner.
To learn more about Icelandair's package holidays and for some Valentine's Day gift ideas visit www.icelandair.co.uk