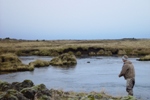 The Atlantic salmon in Iceland is remarkably strong and a great fighter, even the smallest ones give you great resistance and you always think the fish is bigger than it is. The last 2 years have proved to be the best years for the number of salmon in Iceland and some rivers are producing an incredible number of fish.
Angling Club Lax-a is Iceland's largest sporting outfitter offering numerous river locations around Iceland as well as organising fishing trips in other countries such as Russia, Scotland, Norway, Argentina and more. Lax-a offer all variety of fishing tours; Guided fishing on full service rivers where anglers stay in ensuited bedrooms and are served 3 meals a day. Self catering rivers where anglers can choose to arange their own meals or to hire a chef, and also rivers where anglers can choose to stay at a hotel, guesthouse or even in a tent.
In Iceland, anglers fish from banks, boats are not used. All the rivers have very pure, drinkable water and are surrounded by remote and peaceful landscapes. We have very strict fishing laws which determine how many rods are allowed to fish in each river. So many of our rivers only allow 2 – 4 rods fishing at a time while the largest ones allow up to 20 rods. So you can easily go fishing for days with out running into other anglers, or even people in some places.
Bookings for 2010 have started out very well and places are becoming fully booked. Fishing in Iceland is extraordinary, there you find a great variety of rivers from tiny streams where you need to crawl gently so the fish do not see you, to great big rivers where you fish double handed rods trying to cast as far as you can.
Lax-a has very talented and experienced guides to instruct and assist our anglers, we arrange everything for you while in Iceland, hotels, rented cars, transports, day tours and just what every you might want to do while in Iceland.
To book a fishing holiday in Iceland or our fishing world tours, please visit www.lax-a.net or contact us at harpa@lax-a.is