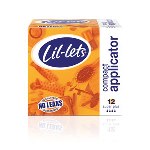 Leading design and innovation consultancy Seymourpowell has created a new and innovative design for the UK's leading non-applicator tampon brand, Lil-lets. Seymourpowell secured the brief following the successful redesign of the Lil-lets' compact applicator range.
Seymourpowell has created an innovative design that reinforces Lil-lets' positioning with women as the non-applicator tampon of choice. The new look packaging imbues a confident and feminine approach for the targeted market whilst also giving the non-applicator packaging a distinctly separate identity from that of the compact applicator range. In addition, Lil-lets quantitative research (2009) amongst 257 Lil-lets non-applicator users shows that the new product innovation designs are now 20 percent quicker to find on shelf than the current lilac design.
"The new design for Lil-lets non-applicator tampons is feminine and modern but also acknowledges that women wish for an element of discretion to be respected within this category. To achieve this whilst creating a design that has on shelf impact has been challenging but we are confident that it will bring new users into the brand and reinforce its leadership position," Neil Hirst, creative director at Seymourpowell commented.
Jackie Roberts, Lil-lets senior brand manager added, "The contemporary styling of our new packaging gives the non-applicator range a strong identity and clearly differentiates it from our compact applicator tampons. It challenges the category norm and as women spend so little time at the feminine hygiene fixture we are confident that our new packaging will work hard for the brand at point of purchase."
Seymourpowell currently consists of 80 people, combining a design studio, research centre, materials library and a prototyping workshop. Specialist areas include design innovation, transportation design, ethnographic user research, strategy and new product development (NPD), trends and forecasting, product design and development, 3D structural design and 2D graphic design.
Examples of other innovative designs and product developments by Seymourpowell can be found at www.seymourpowell.com
To view and download Seymourpowell's FMCG pamphlet click on the link below:

Contact:
Tim Duncan
PR Global, Seymourpowell
Email: tim.duncan@seymourpowell.com
Tel: +44 (0) 207 381 6433