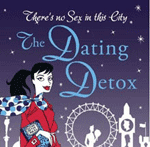 New 'anti-romantic novel' chicklit author is interviewed by Vanity Fair on VF Daily. In an exclusive Q&A for Vanity Fair's VF Daily blog, Gemma Burgess talks about the importance of comedy and her new post-recession heroine.
"For those waiting to option the next Bridget Jones, Gemma Burgess answers back with her anti-romantic novel The Dating Detox (HarperCollins UK). Burgess's heroine, 28-year-old Sass, is no chain-smoking, binge-eating fashion victim like Bridget. Although Sass does suffer severe hangovers, she cleans up well—shaves both legs simultaneously, dresses like one of Rachel Zoe's girls, and woos her advertising-agency comrades while she's still drunk from the night before." (c) VF Daily, Lauren Sozio
The Dating Detox is the first chicklit book to recognise that for the post-Bridget Jones, post-Carrie Bradshaw, post-credit crunch generation of singles, life isn't a beautiful, a bitch or a beach. It's a party.
"Sass is the first post-recession heroine, which is a pretty dramatic change given the Shopaholic-type, label-obsessed chick-lit books that have dominated the market for years. She's the poster child for the current anti-status Zeitgeist. She's not obsessed with money or status, but with finding her place in the world and having a good time while she's doing it. Having a cupboard full of Louboutins isn't a priority when you can't get a job or pay your rent. She loves clothes but not labels, dancing but not clubs, and she doesn't believe that if she buys the latest "It bag" then she'll be happy. She believes that the most important thing is always, always, always to have a good time." (c) VF Daily, Lauren Sozio.
The plot: after being dumped for the sixth time in a row, romantically-challenged heroine Sass declares a dating sabbatical. No men, no break-ups, no problem. The result: instant happiness. A love-free life is stress-free, too. On the flip side, the dating ban is like catnip to every man in London. She's never had so much attention in her life. Should she risk her newly-found stability in singledom for what could be the real deal? Or will she choose the rules, rather than risk having her heart broken again?
Read the full article here http://www.vanityfair.com/online/style/2010/01/the-dating-detox.html
Find out more about The Dating Detox and the author here www.gemmaburgess.com
About the author:
Gemma moved to London at the age of 22. She started working as an advertising copywriter, and applied herself more wholeheartedly to having a good time. Eight years later she decided to distil some of her experiences into The Dating Detox: the anti-romantic comedy for women with confidence, wit and style but absolutely no clue whatsoever how to know the real thing when they see it. (Love, that is.) She still lives in London. And is still having a good time.
www.harpercollins.co.uk/Authors/8643/gemma-burgess