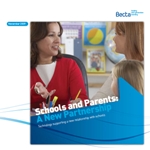 With such a vast array of communication tools such as emails, text alerts and blogs, it is important that schools provide the proper support and training to ensure that what is communicated is timely and meaningful. Online Reporting means that parents have access to information and advice from a variety of sources which helps them support the development and well-being of their child. A recent report by Becta reveals that keeping parents informed on their child's progress, communication can be more focused, having more impact and positively benefitting the child.
Becta is the government agency aiming to advertise and implement the productive and innovative use of technology throughout the teaching and learning process. The Schools & Parents: A New Partnership report is part of the 'Next Generation Learning' campaign, which encourages parents to contact their child's school in order to establish how and if technology is already being used, and how it can improve communications between them and their child's school in future via Online Reporting.
Online Reporting is the innovative use of media and communication technologies such as email, blogs, websites and text alerts in order to keep parents better informed about their child's achievements, progress, behaviour and attendance.
It is important for teachers and schools to consult parents on how they would like to be kept informed on the progress of their child. Some parents prefer face to face contact, whereas others may favour the convenience of tools such as text alerts or online reporting to gain a quick insight of their child's progress.
A website is one of the most effective communication tools that is easily accessible for most schools and parents. It allows access to regular updates such as timetables, school trips, sharing photos and learning tools supporting parents and involving them in school life.
Email is a popular parent communication tool as a quick way to get information; regular email updates from the school would help them get more involved. However, it is important schools agree realistic expectations on the use of email with parents and that the technology and systems are in place to help teachers manage emails effectively.
The Becta report shows that eighty-two percent of parents admit they don't know as much about their child's day at school as they want to, however this is one of the best ways to keep informed and updated. Parents can learn more about how to make the most of after-school conversations and better parent child communication.
To view the Becta Schools & Parents: A New Partnership report in full and to read more details about Becta and the 'Next Generation Learning' campaign log on to www.nextgenerationlearning.org.uk
For more information, please contact:
Sophie Jackson 0207 025 6412 / Sophie.jackson@redconsultancy.com
Catherine Sharrott 0207 025 6589 / Catherine.Sharrott@redconsultancy.com
Kate Cox 02476 797146 / Kate.Cox@becta.org.uk