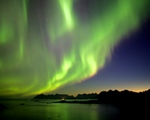 Due to Iceland's perfect location, just below the Arctic Circle, and the leading travel guide, Lonely Planet, labelling Iceland as the number one money-saving vacation in Northern Europe for 2010 – Iceland is certainly this winter's ideal Northern Lights sight-seeing destination.
The Northern Lights are unquestionably one of the most breathtaking natural spectacles in the world. The natural light displays of the Aurora Borealis occur most frequently in the Polar Regions, centred within a 2500 km radius of the geomagnetic pole.
The amount of sunspots on the sun's surface is the main cause for the appearance of the Northern Lights with these sunspots following an 11-year cycle, which is set to peak between 2011 and 2012. The strength of the Aurora is based on the number of occurring sunspots as well as clear visibility and scientists agree that the conditions for viewing the Northern Lights in 2010 are incredibly good, making this winter the perfect time to visit Iceland.
Iceland's flagship air company, Icelandair, provide numerous 'once in a lifetime' Northern Lights package deals; including flights, accommodation and the all important Northern Lights pursuit. As well as all of this, Icelandair also pledge safe and reliable travel for all of those who wish to experience the magic of Iceland.
To book flights with Icelandair or to find out more information about the services they offer visit www.icelandair.co.uk