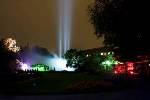 Every year, around mid-October, Copenhagen's biggest annual culture festival, The Night of Culture (Kulturnatten), takes place in the heart of the city, where over 200 cultural institutions open their doors, offering an array of great experiences for all to enjoy.
The Night of Culture festival transforms the city into a cultural epicentre, where over 200 museums, churches, exhibition halls, galleries, and political institutions open their doors for people to experience the broad cultural landscape that Denmark's capital city has to offer.
This October Copenhagen festival attracts around 100,000 visitors to the city every year to indulge in all the festivities that it has to offer. The festival tends to pay special attention to light, sound and cross-cultural themes holding over 700 events such as, live music performances, theatre performances, light shows, exhibitions, and interactive workshops in the heart of the city centre.
As well as all the magnificent events that the festival has to offer, Copenhagen also has numerous attractions and sights that cater for every need and interest, for example: The Tivioli Gardens, Amalienborg Palace, The National Gallery, Kronborg Castle, and Stroget, which is the world's longest pedestrian street, home to a wealth of shops with big international brand names like Louis Vuitton, Prada, and Chanel.
To make the visitors stay as comfortable and enjoyable as possible, Copenhagen hosts a vast selection of luxurious hotels that are well-located and have great facilities. Many of the hotels are very accommodating with friendly staff from all over the world that are always happy to assist with any queries. Most of the rooms are equipped with air conditioning, a mini bar, and some hotels even offer a 24-hour convenience store for ease and availability despite being within easy walking distance of all the inner city services.
For more information on hotels in Copenhagen, log on to www.hotelsincopenhagen.dk
(advertisement)