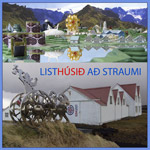 The Viking Circle is a unique business based on Old Norse culture and beliefs, providing resources and activities for everyone from academics to children and everyone in between.
The Viking Circle operates an art and educational centre at Straumsvik, near Hafnarfjordur in Iceland not far from the capital Reykjavik. At the centre, guests can find an impressive array of art and literature, as well as talks and tours.
There are even advanced plans to open a sort of theme park called the Story Garden. As the company is run partly on the ideas and expertise of artist Haukur Halldorsson, it has been possible to assemble a beautiful collection of modern sculptures and other arts in the Old Norse style.
The Viking Circle Arts and Educational Centre is open by appointment and takes groups of all sizes. Organising a visit is as easy as a simple phone call, and the telephone numbers are available on the Viking Circle website.
If you are fascinated by Nordic history, and the cultural history of all of Northern Europe for that matter, the Viking Circle is definitely for you. And everybody will learn something and can appreciate the art and the stories from the distant past. The centre's dedicated and enthusiastic owners only add to the experience and their knowledge is yours for the picking.
Further details on Iceland's premier Nordic and Viking history exhibit can be found at www.vikingcircle.com