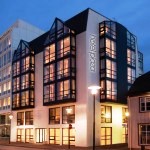 An Iceland vacation is best enjoyed by having centralised accommodation in the heart of the capital. Icelandic culture, shops, nightlife, and eateries are all found in the downtown Reykjavik area. Center Hotels provide quality rooms, travel services, and are all within easy walking distances from the major attractions.
There are many attractions in the city centre of Reykjavik. The heart of Iceland's capital city is centralised around the downtown area. Downtown Reykjavik is easily to explore by foot and Laugavegur, the main shopping street and surrounding district, offers stores and shops for all kinds of travellers. There are electronics and music stores, book shops, toy shops, and plenty of clothing stores. The Blue Lagoon shop is located right across the street from Reykjavik Center Hotel Skjaldbreid giving the traveller a more convenient shopping experience for Iceland's most popular attraction.
Hotel Klopp, another fine addition to the Center Hotels chain, offers a beautiful view across the street to Arnarholl, a large open park area with a fantastic view over the city as well as the sea. Hotel Klopp is also less than a minute's walk from the National Theatre, allowing the traveller to catch a local show, and with it, a true Icelandic cultural experience.
The Hotel Plaza is walking distance from many more shops, restaurants, and the beautiful pond. Near the pond, which is not more than a two or three minute walk, is the Reykjavik City Hall which has a large 3D map of Iceland inside as well as art exhibitions. The Parliament and Austrvollur (East Square) is a nice place to relax at any time of the day or night.
Instead of worrying about local bus timetables or paying high costs for taxis and sitting in rush hour traffic going to and from the city, why not just stay in the city centre? After the weekend nightlife, Center Hotels offers convenient walk back to the traveller's accommodation. If the traveller needs a break from the city, day tours in Iceland and around the country as well as the Blue Lagoon can be arranged easily by Center Hotels and will have you back in the city for a fine dinner.
No matter which hotel you finally decide to choose in the Center Hotel family, they will all offer an experience that will complete your journey to Iceland's capital. Downtown is definitely the happening place in Reykjavik, and Center Hotels can provide an exquisite base to enjoy the shops and attractions that Reykjavik has to offer.
For more information, and to view all of the Center Hotels, check out www.centerhotels.com.