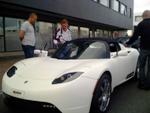 Japanese automakers Mitsubishi and Toyota along with the Chinese BYD Auto will be presenting their green car solutions in Iceland at the third annual Driving Sustainability international gathering of decision makers in Reykjavik September 14th and 15th.
The price of imported petrol and diesel to power Iceland's 200,000 cars has nearly doubled since last year due to a dramatic devaluation of the currency following the collapse of the country's financial system.
One hundred percent of Iceland's electricity generation comes from renewable energy and the country is the world's leading nation in utilising renewable energy with 80 percent of its total energy consumption from hydro- and geothermal sources. The remainder, mostly fossil fuels, is consumed by the transport and fishing sectors.
"System change in energy was implemented here a couple of decades back. Cars are our next target for a 100 percent sustainable energy society," says Teitur Torkelsson, managing partner of FTO, and chief organiser of Driving Sustainability.
"The first step is to increase the number of vehicles running on biogas, domestically produced from a Reykjavík landfill. Secondly, the government has for some time now been working on revamping the import duty structure for cars to minimise fuel imports. This will make fuel-efficient cars considerably more affordable and gas-guzzlers more expensive. Thirdly we should expect some financial incentives for zero emission cars that can run on domestically produced green electricity. If, or perhaps I should say when, electric cars become competitive in quality and price, Icelanders will have no problem running all their cars on domestically produced sustainable energy. So this small country has a good chance at being the first in the world."
"This has been a B2B and news generating event in the past. I believe it will be so again this year," says Torkelsson. The 2008 event culminated in the signing of an agreement between the Icelandic government, Mitsubishi Motors Corporation and Mitsubishi Heavy Industries on fleet testing of the electric Mitsubishi i-MiEV in Iceland and the development of a service network and infrastructure for such cars.
Further details on Driving Sustainability can be found at: www.drivingsustainability.org