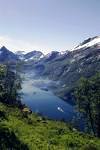 Anyone with a professional interest in tourism to Iceland, Greenland or the Faroe Islands should make time to visit the Vestnorden Travel Mart in Copenhagen on 16 and 17 September this year.
The Vestnorden Travel Mart is a co-operation between the tourism authorities in the Faroe Islands, Greenland and Iceland. The three countries take it in turns to host the event and this year is Greenland's turn. Taking place in the convenience of central Copenhagen, exhibitors and buyers alike are all able to reach the venue with relative ease, meaning the event promises to be a great success.
Connecting the best places to see and the best things to do in Iceland, the Faroes and Greenland with agents and tour companies around the world is the aim of the Vestnorden Travel Mart. Because, after all, amazing natural wonders like Iceland's Dettifoss, Europe's most powerful waterfall, aren't going to market themselves!
It is at major international travel conferences such as Vestnorden that members of the travel and tourism industry are able to make new contacts, new deals and come up with new ideas which can shape future trends in leisure travel.
The rapid explosion in the number of cruise ships visiting Iceland and the West Nordic region in recent years is a prime example of a shifting trend in travel in the region.
Vestnorden Travel Mart 2009 has already attracted over 50 fully paid-up exhibitors, a large majority from Iceland. Furthermore, over 80 specialist West Nordic travel companies from all over the world have already paid to partake in the event as buyers.
If your company is interested in developing its travel services in Iceland, the Faroe Islands or Greenland, there is no better opportunity that Vestnorden to interact personally with local agents, guides and national tourist boards.
Similarly, if your company is based in the West Nordic region and offers services to visiting tourists, a trip to Copenhagen this September could potentially net hundreds or even thousands of new customers.
Visit www.vestnorden.com for more details on tourist industry opportunities in Iceland, Greenland and the Faroe Islands.