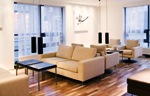 There is nowhere more full of life and culture in Iceland than the centre of Reykjavik and visitors to the city have more freedom and more fun by finding accommodation in the very heart of town. And rarely is that more true than right now.
Center Hotels is a chain of Reykjavik hotels allowing visitors to enjoy the best of Icelandic culture without the hassle of going home early on buses, paying for expensive taxis or driving themselves and not being allowed a beer or two.
With the famous Culture Night around the corner and the large Reykjavik Jazz Festival already underway, a good downtown Reykjavik hotel is integral to getting the most out of your stay.
Culture Night is Reykjavik's annual birthday celebration, taking place this year on Saturday 22nd August. The whole day of celebrations includes hundreds of shows, exhibitions and demonstrations, as well as the Reykjavik Marathon and a huge fireworks display.
Meanwhile, the Reykjavik Jazz Festival is now in its 20th year and is therefore running a special 20-day long run of live music and other events, starting on 13 August. Any fan of jazz will find something special going on every evening in Café Rosenberg and other city centre venues.
Reykjavik Center Hotels operates five very different high quality hotels in the trendy Reykjavik 101 postal district. Describing each in a few words can help paint a picture; but a visit to the website is the best way to decide which suits you best.
Hotel Plaza is a modern, traditional and friendly Reykjavik hotel. Hotel Skjaldbreid is laid-back, bright and unpretentious. Hotel Klopp is youthful, intimate and cool. Hotel Thingholt on the other hand is über-cool: a design hotel inspired by Iceland's nature and folklore. Hotel Arnarhvoll is another super chic design hotel whose décor is only surpassed by the stunning sea views.
As well as offering great places to kip, Reykjavik Center Hotels also work hard to satisfy your hunger for top notch nosh: Hotel Arnarhvoll's Panorama Restaurant and Domo at Hotel Thingholt are two of Reykjavik's most respected eateries.
For more information on finding the perfect Reykjavik hotel, take a look at www.centerhotels.com