Teknomek today announced the launch of a new range of seating options as part of their continually evolving product range. These ergonomic seats are specifically designed for cleanroom, laboratory and other high care environments where hygiene is of the utmost importance
This new range of stainless steel polyolefin seats are available as chairs with backrest, semi stand up seats and stools and can be ordered with or without a stainless steel footrest. Constructed from hard, white transparent polyolefin makes them ideal for sterile environments as they benefit from being hose-pipe washable, autoclavable and corrosion-resistant.Two other new additions are to Teknomek's existing polyurethane seat range. A saddle seat and a tilting stand up, both constructed from chrome. The polyurethane  saddle seat is recommended for service, laboratory and medical industries as it is abrasion-resistant, polyvalent and made without staples or seams to prevent biohazards accumulating.
The polyurethane stand up seat is appropriate for many environments including services, trade, logistics, laboratories, technical, workshops, and food. It has a tilting mechanism for support when standing. Easily transportable with a carry handle and polyethylene texture gives grip, particularly for those wearing laboratory coats, but without creating lint. Polyurethane seats also withstand chemicals and rubbing so they can easily be washed, scrubbed and disinfected if contaminated.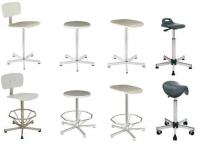 Both ranges of seats benefit from ergonomic design factors, such as being height adjustable, intended to maximise productivity by minimising operator fatigue and discomfort and promote circulation in all positions.
These seats are key to maintaining top levels of basic health and safety in all demanding high-risk and high-care environments.
All seating options are available on Teknomek's website, www.teknomek.co.uk, from £179 plus VAT. 
For further questions, please contact Teknomek on 01603 788833 or visit www.teknomek.co.uk.