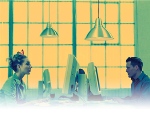 Content management is becoming part of enterprises' infrastructure and consequently is being delivered by large vendors of enterprise infrastructure. Frequently new applications suffer from an insufficient backup solution. More and more companies and enterprises are using Microsoft Office SharePoint 2007 integrated suite of server capabilities helping them to improve organisational effectiveness by providing comprehensive content management and enterprise search, accelerating shared business processes and facilitating information-sharing across boundaries for better business insight.
With traditional tape based backup solution SharePoint can only be recovered in case of disaster by restoring the database as a whole, often meaning that critical data can only be recovered outside of the defined Recovery Time Objective (RTO). With the online, automatic SecurStore Backup and Recovery solution, files can be recovered at an item level, allowing companies and enterprises to prioritise what to recover when in case of a disaster. Based on this, IT directors can plan their disaster recovery procedures more easily and make sure that that their systems run with minimum downtime. With Microsoft SharePoint becoming more and more popular, it is becoming something of a backbone to many companies, leaving them vulnerable in case of a disaster.
Additionally with the Bare Metal Restore feature of SecurStore, SharePoint can easily be recovered to a virtual machine in a matter of minutes. This can be done in both VMware and HyperV environments.
"By backing up SharePoint at item level, our customers are provided with the comfort they need and are allowed to restore their data within their previously defined RTO allowing them also to prioritise the recovery of their data in case of a total disaster," says Jon Ingi Thordarson the CIO of SecurStore.
With our complete protection of the virtual environment you can also backup & restore your entire sharePoint infrastructure onto a VMware or HyperV machine for disaster scenarios or testing.
More information on SecurStore data backup and security services at www.securstore.co.uk