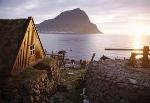 That there is plenty to do if you visit Iceland in the summer is no big secret. But even by normal standards, there's a lot to report on this month.
The hectic summer schedule of big events and festivals takes something of a break in July, allowing people the chance to entertain themselves for a while – and there is no shortage of options.
First there are the expanded travel options: scooters, kayaks and helicopters now take their place alongside cars, glacier snowmobiles and buses.
Puffin Scooters is a new company renting funky little motor scooters at reasonable rates as the most fun, easy and economical way to see Reykjavik. And for those wanting something a little speedier, there's Nordurflug helicopter rides offering incredible aerial views and the chance to land on a glacier for a drink and carve your own ice cubes from just USD 280 per person.
At the cheaper end of the pristine spectrum is sea kayaking in Iceland with experienced guides along the country's unique and bird infested coastline. From as little as USD 40, most people on Iceland tours will be able to enjoy a bit of sea breeze.
While out and about this summer, be sure to pop into the garden town of Hveragerdi, where a brand new Norse mythology centre has just opened. As well as the fascinating exhibition, there is also a large tapestry telling the story of the Voluspa poem and a Norse theme restaurant.
Then there is the extremely tempting fact that Icelandair is currently running a competition in co-operation with Visit Iceland, Visit Denmark and the Norwegian Tourist Board for an unforgettable Nordic saga vacation.
The lucky winner will embark on an all expenses paid trip from Seattle to Copenhagen, Oslo and Reykjavik with hotel accommodation and sightseeing tours included. Simply visit Icelandair here to take part.
As if you needed any other reason for an amazing Iceland vacation, don't forget the mild and colourful Icelandic summer weather, the midnight sun and the massive bonus of Iceland's weakened currency making everything up to 40 percent cheaper for tourists than just one year ago.
For the official gateway to Iceland, visit the Iceland travel guide at www.visiticeland.com