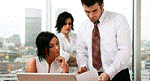 Media rich content is becoming increasingly important, and guess what, digital content needs to be in innovative formats –(such as videos and podcasts) as companies seek to improve B2B and B2C interactions!
For marketers looking to get up to speed with the latest digital insights via interactive content and dynamic formats to improve their capabilities on the job, Knexus Digital is just the resource. With 750 online titles in 12 + digital marketing categories like Online Advertising, Social Media, Customer Experience and Search, Knexus Digital's market-leading insights are time-saving and cost effective!
So access our digital content and get your marketing team upskilled in no time at all. To access compelling content from Knexus Digital to enhance learning, market insights and ideas email brook.minto@knexusgroup.com.
Alternatively, if you'd like to know how Knexus Digital helps companies to maximise marketing team performance for a digital marketing success, you can request an online demo (www.knexusgroup.com/request_demo) or contact +44 (0) 845 838 5316.
About Knexus Digital
Knexus Digital provides innovative online tools and market leading insights to maximise marketing teams' execution capabilities for digital marketing success.
In essence, Knexus Digital helps marketing teams acquire new skills and insights to adapt to a fast-changing marketplace. In the face of global competition and shrinking marketing budgets, we provide digital marketing solutions in quick, easy and cost-effective ways.
Knexus Media Inquiries
Sherlyn Lee
Marketing Manager, Knexus Ltd
t. +44 (0) 845 838 5316
e.sherlyn.lee@knexusgroup.com