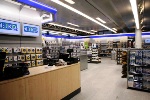 Keflavík International Airport is Iceland's main airport and provides a vital transport link for both passengers and freight. Recent upgrades mean services are better than ever with travellers' tax refund vouchers now valid for shopping.
Keflavik International Airport is simultaneously a relaxing and exciting environment: travellers can sit down and enjoy the airport's comfortable ambiance or they can seize the day by taking advantage of all the great shops. Many big brands are available to travellers. Brands like Burberry, Calvin Klein, Gucci, Bvulgari, Boss, Diesel, Breidling, Tagheur and Raymond Weil are cheaper duty free at Keflavik than in many other airports and big cities; and up to 50 percent cheaper than Reykjavik.
Furthermore, it is now possible to redeem tax refunds at the duty-free store – in other words, visitors can use their Iceland Refund cheques to purchase duty-free and tax-free goods without queuing for cash at the bank.
Iceland is one of the few countries in Western Europe that can sell tax and duty-free goods and services to both arriving and departing passengers. This allows arriving visitors to stock up on tobacco, liquor, cosmetics, electronic goods and other gift items.
The airport is not only about airport shopping though. Surrounded by Icelandic art, travellers can enjoy their coffee, meal and drinks in a quiet and a relaxing airport.
The airport covers an area of some 25 square kilometres; it has four runways of more than 3,000 metres capable of handling modern long-haul aircraft. Due to Iceland's geographical location astride North-Atlantic air routes, the airfield is open 24 hours a day.
Since the recent airport expansion, twelve new shops have opened offering a greater selection of well-known brands and Icelandic designs at the major Atlantic airport. As a special feature passengers waiting for their flight now have the unique opportunity to relax and enjoy massages and spa treatments at the Blue Lagoon store. A Seafood & health bar has opened in the departure lounge on level two, offering renowned Icelandic fish products.
Further information about the air terminal, security, passport control, customs regulations, transport etc. can be found on our website: www.kefairport.com