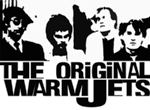 In the 70s and 80s The Warm Jets played alongside notorious and illustrious artists and bands such as The Sex Pistols, Ian Dury, The Members and many other famous artists. The Jets music will soon be available in a new album History of Rock N Roll Part 2. Above are these preview sample tracks from the album.
The band mysteriously disappeared on a trip through the Himalayas via Katmandu, Goa, Finland's Forrests and Lakes and Siberia. Their diverse style of music derived from half of the early Cockney Rebel which was augmented by the enigmatic theatrically charged songs and lyrics of Paul Ballance. Paul Jeffreys the bass player sadly was a victim of the Lockerbie terrorist air bomb, dying in mid air with his new wife bound for New York.
The Warm jets records were released RSO and Rocket Records. There has been a rumor of a renaissance in the return to life of Paul Ballance to live performance where he excels as well as a series of albums. The music is a convergence of styles including Rock, Electro, Pop, Reggae, Disco, Dance, Electronica and Experimental Pop. Priding itself into continuing its commitment to both original and fresh music. The new album's blending of both old and new influences derives a cutting edge and fresh sound, with reference to the rich inheritance of the original band.