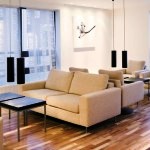 There are few things more important to a successful trip than comfortable and convenient lodgings, which is why Reykjavik's Center Hotels are the favoured choice of thousands.
When hunting for Reykjavik hotels keep an eye out for comfort and practicality; but don't forget the importance of location either. There are plenty of out-of-the-way accommodation options in Reykjavik, but do you really want to rely on buses and taxis when you could be staying right in the middle of the city and free of restrictions? Reykjavik taxis are notoriously expensive and can be extremely hard to come by on Friday and Saturday evenings.
Center Hotels is a chain of five unique Reykjavik city centre hotels each offering a different environment and different style in differing neighbourhoods – but all downtown and surrounded by shops, restaurants, bars, museums and galleries.
Reykjavik Hotel Klopp is located a stone's throw from the main shopping street in an unpretentious neighbourhood. Newly refurbished with wooden floors and plush upholstery, the upper floors also enjoy Reykjavik's inimitable sea views.
Hotel Skjaldbreid is the smallest in the Center Hotels group and offers a chilled-out haven right on Reykjavik's main shopping street where the city is at its most vibrant. The comfortable communal lounge offers a bright and airy place to read the paper, enjoy free tea and coffee and strike up conversation with fellow travellers.
If you're looking for a design hotel in Reykjavik, your first port of call should be Hotel Thingholt or Hotel Arnarhvoll. Hotel Thingholt is on the edge of Reykjavik's artistic Thingholt district and uses Icelandic nature as inspiration for a sumptuously unique design experience.
Hotel Arnarhvoll is a newly opened Scandinavian design hotel with stunning sea views and unforgettable atmosphere. Furthermore, Arnarhvoll's Panorama Restaurant might just be one of the best and most ambitious eateries in Iceland.
Finally there is Hotel Plaza, a well-appointed and newly renovated hotel in the heart of the old town. Hotel Plaza provides uncomplicated comfortable surroundings with excellent service and even better location.
When planning a trip to Reykjavik, don't forget how much more convenient and enjoyable it is to stay in the city centre. From then it's simply a question of deciding which of the five Center Hotels best suits your personality!
For further information, take a look at www.centerhotels.com