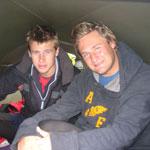 Atlantic Row Duo Get a Supporting Hand at Their Launch
Matthew Mackaness and Charlie Marlow were joined by supporters of their Atlantic Row race, part of the Woodvale Challenge at Rudding Park Hotel, Harrogate. The duo are striving to raise £50,000 for two charities, Brain Tumour UK and community centre, Shrewsbury House celebrated the launch of their boat and were joined by a very special guest.
Yorkshire County Cricketer, Simon Guy reminded all just how close everyone is to needing the support of charity. He underwent brain surgery just four months ago and paid tribute to the neurosurgeons who treated him, along with the good work that Brain Tumour UK do in supporting neurological research and advancement.
Despite living the healthy life of a professional sportsman, Simon, 30, was rushed into hospital with a life threatening Cerebral Abscess. He has since made a speedy recovery, making it back into the 1st XI for Yorkshire County Cricket. Although a difficult story for him to tell Simon spoke at Matthew and Charlie's launch in support of their expedition and the worthy causes they are supporting.
Simon said: "My hat goes off to them, they must be mad but they are an inspiration to us all.
"You never think anything is going to happen to you, I kept fit and healthy. But when it did it changed my life, I am so lucky to be here for my wife and two children."
Matthew and Charlie's 3,000 mile journey begins from La Gomera, in the Canary Islands in December 2009 and ends in the English Harbour, Antigua, in the West Indies. They are keen to challenge the 39 day record and both say it is the worthwhile causes that keep them going.
During their perilous journey they will face many dangers from shark attacks, to extreme weather conditions, to boils on their bums. Their boat which measures 23.4ft long by 6.3ft wide will be their home throughout the entirety of the race. Daily life onboard consists of a tiny sleep pod for shift naps, dried ration packs and a bucket toilet that would challenge the most hardened adventurer.
Matthew said: "We are so pleased with all the support from our friends, family and local people. We are just want to get going now and raise the £50,000 for charity. It has been great to launch the boat in Yorkshire and I'm sure we will think about this fantastic day as we make our way across the Atlantic."