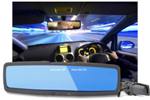 AlphaMirror developed the next generation of clip-on auto dimming rear view mirrors. Our mirror enables vision enhancement and protection in all driving conditions maximizing the driver comfort. Integrated with advanced electronic functions we will lead the rear view mirror from the dimmed age into the digital world.
When it comes to driving safety, comfort and innovative electronics, these mirrors are the next generation of auto-dimming mirrors. The Digital Mirrors™ protect and enhance your vision during night and twilight hours and, integrated with our innovative electronic functions, AlphaMirror presents the next generation of rear view mirrors.
These Digital Mirrors™ offer:
• Vision protection – we protect your vision from glare during twilight and night.
• Colour Mania – The colours you love and fit your style and interior design.
• Spectral Protection™ – Best protection tinting, reduces the "blue" wavelengths and improves your vision and comfort.
• Sharper image – see more and reduce glare. Sound impossible, we can do it!
• Adaptive switching – we change the mirror reflectance as fast as needed
• Clips over your existing mirror with no wiring required! Fits in 30 seconds
• Batteries last for 3 years under normal driving conditions
Spectral Protection™
Best protection tinting, reduces the eye-irritating "blue" wavelengths and improves your vision and comfort. It is the only auto-dimming rear view mirror that is equal to optical class 1 eye wear standard. The auto-dimming mirror technology was initially developed for use in fighter aircraft to minimize in-flight glare. Now this technology has been adapted by AlphaMirror for the automobile industry. AlphaMirror's auto-dimming sensor automatically adjusts to current lighting conditions and improves visibility in all weather conditions.
AlphaMirror Digital Mirror™ is the only mirror implementing adaptive switch function and maximize you comfort and vision.
You can order via the secure website www.digitalmirrors.co.uk or if you prefer just print off the order form on the Products/Shop page and post a cheque.
For further information please contact Martyn Lawrie on 07841 825140 or martynlawriemlc@ntlworld.com. Please visit www.digitalmirrors.co.uk for more information.