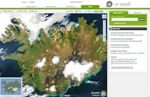 Icelanders have long relied on www.ja.is to conveniently give them contact details for nearly every person and company in the country – but now that the website has been redesigned, its new and vastly improved range of services are available in English too!
Since its recent overhaul, ja.is has become an even better first port of call for those looking for information about Iceland. The Yellow Pages of Iceland offers a quick and reliable way to find details of companies and individuals all over Iceland.
Contacts can be searched by name, category or geographical location and results include name, telephone, fax, email, street address and website.
Every result can also be shown on a highly accurate interactive map of Iceland, thanks to GPS location technology.
The maps on ja.is also provide excellent travel information, including locations of all the best fishing spots in Iceland and where all the golf courses and campsites are, as well as hospitals police stations and petrol stations as well.
No other Icelandic website offers as many useful services in such a user-friendly way.
Another clever feature of the new website is the so called "VCard", whereby users can get information sent to them direct to their email software, such as Outlook or Notes.
When dealing with business entries on ja.is, it is also possible to see important registration details such as social security number, registered headquarters address, VAT number and business type.
Ja.is has taken the redesign very seriously, because 86 percent of Icelanders regularly use the website and it has become an important part of daily life. The new English option now brings the best way of getting information about Iceland to a whole new audience: namely all the many people in Iceland who do not speak Icelandic.
Tourists in Iceland are already finding the redesigned ja.is a liberating tool in finding what they need in an unfamiliar new country.
Check out Iceland's answer to the Yellow Pages at http://en.ja.is