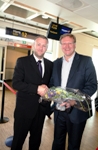 Icelandair, the airline connecting Europe and North America through Iceland, began its new Stavanger to Reykjavik route today. This means Stavanger now has good value and easy connections to seven top cities in the USA and Canada – as well as to Iceland itself.
Today, Icelandair began its new twice-weekly flights to Stavanger from Reykjavik. To celebrate the event, the Mayor of Stavanger, Leif Johan Sevland and the Director of Stavanger Airport, Leif Lorintzen welcomed Birkir Holm Gudnason, Icelandair CEO, and other passengers at a reception ceremony in Stavanger.
Icelandair operates a daily service to the Norwegian capital, Oslo, and has dome for many years. The airline also started flights to Bergen on the west coast of Norway two years ago. This summer there will be daily flights from Oslo, four times a week from Bergen and two times a week from Stavanger.
"The Icelandair business idea is to use the geographical location of Iceland between North America and Northern Europe for profitable airline operations," Icelandair CEO Birkir Holm Gudnason says, pointing out the potential of the increased services to Norway.
"These west Norwegian communities, Bergen and Stavanger, each have a similar population to Iceland, they have strong economies and highly developed tourism, especially in the cruise business. There are also strong historical and social ties between Iceland and this area, and a large number of Icelanders live there. This fits our model and strategy. We are confident that we can build up a very convenient service with sales in all our markets – in North America, in Iceland and in Norway. Icelandair can now offer quite superior connections to and from the region and North America," he continued.
Icelandair is Iceland's biggest airline and offers passengers flights between 18 European cities and Iceland – with quick and convenient connections on to North America. The airline even offers travellers the chance to stay in Iceland for a few days at no extra cost.
Icelandair's newly redesigned planes offer a high tech and comfortable twist to the North Atlantic's best value airline.
More details about flights to Stavanger and all other Icelandair destinations are available at www.icelandair.com