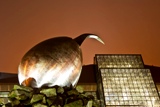 Keflavik International Airport in Iceland features modern passenger and commercial facilities with extensive capacity astride the North Atlantic and polar routes. Keflavik is the primary airport in Iceland serving the capital city, Reykjavik, as well as being a transatlantic hub of major importance for scheduled operations and technical stops.
The airport is a consistent performer in the comprehensive ACI Airport Quality Survey, voted third best in Europe in the first quarter of 2009 for modern facilities, capacity and comfort.
Fourteen passenger carriers and three cargo carriers operate at Keflavik during the high season. Icelandair, Iceland Express and SAS provide year-round scheduled service. 
Tourists go far in Iceland this summer on a very favourable rate of exchange. There has never been a better time to shop at Keflavik Airport with great deals on quality items, designer clothing, jewellery and other duty free products and great savings compared to city prices.
The airport transit area now boasts another new dining option in the form of the new Nord restaurant, offering delicious light meals in comfortable, modern setting.
A 1:8 scale model of the Viking ship Islendingur (The Icelander), which sailed to America in 2000 to mark the millennium of the Norse discovery of the New World, adorns the transit area. The actual Islendingur, an exact copy of the Gokstad Viking ship, is properly displayed in the new Viking Museum in the nearby town of Reykjanesbaer together with a magnificent Viking exhibition from the Smithsonian in New York.
Further information can be found at www.kefairport.com