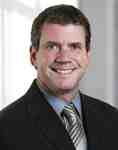 Chris Rourke, User Vision Director, has been appointed to the board of ScotlandIS, the trade body for the information and communications technologies (ICT) industry. The appointment reflects User Vision's ongoing commitment to and involvement in the ICT sector in Scotland.
User Vision is one of Europe's leading independent user experience consultancies. It has pioneered usability and accessibility for many years, operating internationally it works with organisations like the BBC, Emirates Airline, Epson and Honeywell.
Chris Rourke comments: "It is an honour to be appointed to the board of Scotland IS as I have great respect for its work and the contribution the ICT industry makes to the Scottish economy."
This round of appointments sees a significant increase in the number of SME board members, balancing out the representation of large member companies and reflecting the diverse membership and continued growth of ScotlandIS.
Trade body for the ICT industry, ScotlandIS represents around 200 software, telecomms, IT and creative technologies businesses throughout Scotland.
Its remit is to raise the profile of the industry in Scotland, lobby policy makers on relevant issues and support members in the development of business relationships with customers, suppliers and partner companies.
Members offer a broad range of professional services and skills to users in industry, commerce and the public sector. Many members are also internationally recognised and active in world export markets.
Commenting on the recent changes and appointees to ScotlandIS Chairman, Eddie Chance said: "I am delighted we have managed to attract so many high calibre individuals from across the ICT industry in Scotland who are passionate about the sector and the contribution it continues to make to our economy in these challenging times."
ABOUT USER VISION
User Vision is one of Europe's leading independent user experience consultancies, specialising in usability testing, web accessibility, eye tracking, user needs assessments and expert usability evaluations. The company tests and improves usability across many platforms including websites, interactive TV, software, mobile phones, keyboards, and consumer products.
At the heart of User Vision's work lies the basic concept that a website or product that is easy to use gives a business competitive advantage. The company takes a straightforward, practical approach to user needs analysis, problem solving and usability testing, leading to effective design solutions.
Launched in 2000, User Vision has grown organically and remains free from venture capital. The company has pioneered usability and accessibility for many years working with organisations like the BBC, HSBC, Nokia and the DTI. Operating internationally in Dubai, Spain, France, Belgium, Luxembourg, Germany, the UK and Ireland, User Vision is a powerful, independent force in usability and accessibility.