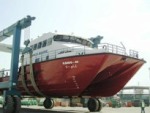 The new vessels will offer customers a larger capacity to carry more passengers and cargo while optimising costs and efficiency.
Dubai, United Arab Emirates, May 24, 2009: Kanoo Shipping today announced the launch of the first of its new series of fast crew supply boats, 'Kanoo 40', at Fujairah. With the addition of the new boats, the company has now expanded its fleet to ten. The new Kanoo 40 series will offer customers a larger capacity to carry passengers and cargo quickly, comfortably and above all safely, while also offering them optimised costs and efficiency.
Commenting on the launch of the new series, Mr. Fawzi Kanoo, the Chairman of Kanoo Shipping said, "We are happy to launch our new series of 'Kanoo 40' boats in the region. We are confident that these new craft will bring new capabilities into the market and that the speed and comfort of these boats will be recognized and welcomed by all our Principals and Charterers."
The Kanoo 40 series will operate in the Arabian Gulf and the Red Sea region. The "Kanoo 40" has a capacity to carry 35 passengers plus ship stores, ship spares, ship provisions, repair equipment, lube oils etc. to ships that are being serviced at Fujairah/ Khorfakhan anchorage or offshore oil terminals in other countries. The new vessels will also accommodate people and equipment in support of other offshore services such as underwater pipeline repairs, ship maintenance, hydrographic surveys and cable laying.
Kanoo is one of the largest regional shipping agencies in the Middle East, which handles over 10,000 port calls every year through its professional network covering all ports in the Suez to India range. Kanoo offers clients regional, trans-regional or, through its shareholding in S5 Agency World, global co-coordinated financial and port-call management services. The Kanoo Shipping network operates in 19 countries and in over 200 ports in the Middle East and Indian Sub-Continent.
-Ends-
For further information, please visit www.kanooshipping.com
For further details, kindly contact:
Capt. Alan Rafferty
Marine Manager, Kanoo Marine
Fujairah, UAE
Tel #: (+9719) -2281214/ 2228788
Mob: +97150 – 9002118