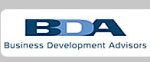 Welcome to Business Development Advisors. We are business development experts, based just outside Guildford in Surrey. We work with small and medium sizes companies to rapidly grow their turnover and more importantly their profit. We generate new customers for our clients and make sure that they retain and maximize the value of their existing customers.
We will bring rapid and sustainable growth to your business.
For an initial, no obligation chat to find out how Business Development Advisors can help your business either call us on 01483 200387 or fill out the Contact Us form
What we do
We are business development experts. We work with business owners who are keen to build and grow their companies but need help to do it.
We bring rapid and sustainable growth to companies by:
Utilizing cutting edge sales and marketing techniques to grow and retain the customer base.
Strategic reviews to assess the client's fundamental approach to their customers, their products and routes to market.
Systems and processes analysis to determine whether the company is running in the most efficient and productive manner.
Our Services
We recognize that every client's needs are different.
Working flexibly to suit your needs
The way we work is determined by your needs.
Some clients like us to act as their "virtual marketing director". We can work from your offices as an extension of your business, creating the marketing and business development strategy and devising detailed marketing plans.
Other clients may not need as much support. Having done the business planning and produced the marketing strategy, we will meet up maybe once a week or once a fortnight to agree actions, assess on – going projects and monitor progress.
Our Business Development Programme
To generate the growth you're looking for, we follow a number of well defined steps.
Confidential Business Analysis
The first piece of activity we undertake is the Confidential Business Analysis. This comprehensive audit analyses all the relevant marketing channels and highlights where the opportunities for growth lie. This is often a real eye opener for business owners.
Marketing Fundamentals Workshop
The objective of the marketing fundamentals workshop is to agree and clearly express all your key marketing messages. This ensures that your proposition to potential customers has real stand out and your marketing activity has the maximum impact.
Seven Levers to Business Success
At Business Development Advisors we have specific strategies to address the seven levers which drive dynamic business growth. We believe that if all these levers are pulled simultaneously, then the growth in the business can be dramatic.
Increased Lead Generation
Leads are the life blood of any business. We focus on generating a flow of new leads.
Maximize Lead Conversion
Having generated the leads, it is vital that you convert as many as possible into customers.
Grow Transaction Value
Increasing the value of each transaction will dramatically grow your turnover.
Maximize customer retention
Winning new customers is hard so it is crucial that you have strategies in place to make sure you hold on to them.
Increase Frequency of Transactions
Increasing the frequency of customer transactions is as effective as and a lot easier than generating new customers.
Improve Margin
The quickest way to grow your bottom line is to increase your margin.
Maximize the Number of Referrals
Referrals are the best possible source of new business. These are the warmest and most responsive leads.