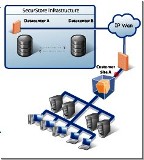 Toyota Iceland, the importer of Toyota and Lexus motor vehicles in Iceland has elected for SecurStore backup and recovery managed services to protect their critical business data. Toyota Iceland is the largest importer of motor vehicles in Iceland, having market share in the region of 25% in the last few years.
Julius Eyjolfsson CTO of Toyota Iceland: "In Toyota Iceland environment it is of an utmost importance that the company is able to recover their servers within its defined recovery time objectives in order to avoid unacceptable consequences associated with disaster or disruption in business continuity. SecurStore's Bare Metal Restore associated with its Local Copy option ensures that we can recover at LAN speed any server with its entire configuration to almost any hardware irrespective of the old hardware. The Backup Lifecycle Management archiving feature (BLM) in the solution also ensures that we can keep snapshots of our critical databases in order to preserve our history and comply with legal requirements at a very affordable price.
SecurStore is a specialist supplier of online, automated and managed data backup and recovery. The solution is totally agentless and covers Windows, Linux and Mac environments with wide application and database support. SecurStore delivers flexible, secure encrypted data backup in a two tier solution where fast recovery, security and professional 24/7 support are all vital part of our solution. Data is compressed and de-duplicated to ensure that the minimum cost is incurred.
SecurStore is certified by BSI against the ISO27001 Information Security Standard.
Intelligent backup, instant recovery… because recovery matters.