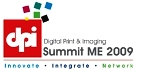 Industry leaders to address topics ranging from eco-friendly green printing technologies to saving costs on printing; CIOs and IT Managers from government organisations and large companies register for the event.
Dubai, United Arab Emirates, May 10, 2009: Aspire Events today announced that prominent industry leaders from the print and imaging industry such as Lexmark, EMC, OKI, Brother and Profiman have signed up as sponsors for the Digital Print and Imaging Summit Middle East 2009, which opens on May 11th, 2009 at the Madinat Jumeirah in Dubai. The event has also witnessed confirmations from many decision makers, CIOs and IT managers from government organisations, Oil & Gas companies, Travel management companies and large enterprises as delegates of the event.
Speaking on the event, Dojo Jose, Director of Aspire Events says, "We are quite pleased with the response we have received for the DPI Summit ME 2009 so far. We have tried to bring in a spectrum of vendors together who offer complete range of print and imaging solutions. We are happy to have Lexmark, EMC, OKI, Profiman, Kyocera and Brother on board for this event. The delegate registration has also been great with senior people from major companies in the region attending. We are certain that delegates will get immense value from the event and will be able to take back with them tips on how to improve the print and imaging workflow in their organisations and save costs."
DPI Summit ME 2009 will feature keynote sessions, presentations and case studies by experts in the industry followed by one-on-one meetings and discussions between vendors and buyers. The event is a convenient platform for the print and imaging companies to interface with as many decision makers from large organisations. The summit will be a crucial opportunity for serious professionals to experience innovative approaches to reducing organizational expenditure in various domains. The print vendors will be seeking to address these delegates with unique propositions that deliver and support services that help customer trim costs while enhancing performance.
Lexmark has confirmed its participation as the Platinum Sponsor of the event. OKI, EMC and Profiman have confirmed Gold sponsorship while Brother has signed up as a Silver sponsor. The official media partners for the DPI Summit ME 2009 are Arabian Business, Arabian Computer News, Network Middle East, CommsMEA, Windows Middle East and Windows Arabic.
-Ends-
About Aspire Events:
Founded in January 2006, Dubai-based ASPIRE Events is managed by a group of professionals who bring with them years of expertise in event management, corporate meetings and conferences, PR, media, printing and advertising, exhibitions, IT, business and lifestyle publishing. Aspire organises and executes its own events (Aspire Forum Events) as well as customised events for corporate either regionally or overseas.
Aspire Forum Events are events for different industry verticals, which are organised onboard luxury cruise lines worldwide and also in Dubai at exotic land resorts. Balancing the serious demands of business with well-deserved pleasure, Aspire offers perfect solutions with a combination of options that allow flexibility and variety at affordable costs. These customised events are designed to put buyers and sellers together at senior level and to offer them an opportunity to network with peers, find the right business partner and to catch up on the latest developments.
For further details, please visit http://www.aspirevents.com/ and http://www.dpisummitme.com
Media Contact:
Dojo Jose
Director
Digital Print & Imaging Summit ME 2009
Tel: +9714-2115278
Fax: +9714-2115101
Mob: +97150-5517689
Email: info@dpisummitme.com