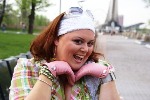 The leading breakfast show in Russia is Channel One's "Good morning" aired daily between 05:00 and 09:00. Maltaeurosong.com has reported that the special guest for this Friday's show will be our very own Chiara.
Crew from Channel One (Russia) interviewed Chiara in the V.D.N.KH. Park in the outskirts of Moscow. The interview will be aired four times this Friday 8th May, every hour kicking off at around 5:45am. The interview was held in English, however Russian subtitles will be screened.
Chiara, sported a pair of brand new pink C&R leather gloves for the interview. She signed cds for fans who gathered in the park during the interview.
"Moscow is a beautiful city indeed. I always thought it was a cold city with constant showers, hail and snow. However, I'm surprised that the weather is not so cold. I am eager to do some excursions around the city as I've heard positive comments about the historical cites and the impressive buildings and monuments", Chiara said during the interview.
Asked about her third Eurovision attempt she said, "I'm bringing a song which I truly believe in. I am glad that the Maltese gave me this third opportunity to be here, so I will do my best to be the first Maltese singer to bring the contest home."
Russia has spent $42 million to host the event, the most ever in the contest's 53-ear history. An army of 20,000 law enforcement officials have been deployed to ensure the safety of the 5,000 foreigners attending the event. Officials also said the sale and use of alcohol will be banned in the Olimpiisky Sports Complex and that security will bar visibly intoxicated fans from the event. Booze will also be banned from the Red Square, where fans will be able to watch the concert on a giant screen, The Moscow Times reported.