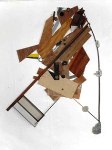 The concept is in the working method.
The belief is in using whatever may be 'at hand'
The poetry is in the detail.
The humour is in contrasting scale.
The intimacy is with every part of the surface.
The rhythm is within the balance.
The essential is in the line.
And all are in the materials.
Gail Sagman's vast body of work spanning 30 years introduces the viewer to the artist's life-long passion for the innumerable possibilities within the abstract in 2 dimensions.
At first glance, the spectator is confronted with a geometrically analytical approach to the picture plane. On closer inspection Sagman's work reveals a very methodical, yet poetic and lyrical reconstruction of objects into intricately made assembled paintings. Instead of an image of the external world the viewer is given a world of its own, analogous to nature but built along different principles.
Sagman hopes to reintroduce her 'paintings' to a London audience after several years working and exhibiting elsewhere. For this forthcoming exhibition she plans to present pieces from various stages. Each work finds echoes in the other, of the concerns, which have remained primary in her exploration of the language of painting. Each is an example of the diversity that can be achieved by breaking down conventions and creating a personal script.
Private View: Friday 5th of June 2009 – 6 pm to 11 pm
Exhibition runs from: Friday 5th to 11th of June 2009
Gallery Opening Hours: Fri, Sat, Mon, Tues, Wed, Thurs: 2.30 pm – 6.30 pm
Last day of Exhibition: Thurs 11th of June: 11.00am to 5.00pm
Red Gate Gallery
209a Coldharbour Lane
London SW9 8RU
Call: 020 7326 0993
Info@redgategallery.co.uk
www.redgategallery.co.uk