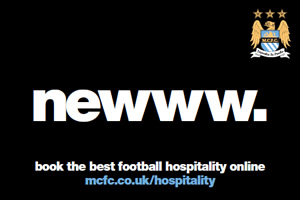 Manchester City fans can now kick off their football experience early by booking their matchday hospitality online, unlike their Barclays Premier League rivals. With Manchester City Football Club online hospitality, customers can simply select the fixture package of their choice receiving a 10% discount throughout February and immediate booking confirmation.
The site really brings the facilities and thrill of football alive. It showcases the modern cuisine and dedicated personal service that has made Manchester City's matchday hospitality offer one of the finest in the Premier League.
Visitors are invited to take a look around the iconic City of Manchester Stadium, with video footage showcasing each of the six atmospheric suites, from the newly refurbished Boardroom Suite featuring elegant surroundings and VIP pitch side seating, to the legendary Citizens' Suite – for City supporters who deserve an extra special treat. The vibrant Mancunian and historic 1894 Club Restaurant, together with 70 luxury executive boxes offering unrivalled views, are also showcased as ideal places to meet other fans and enjoy the beautiful game.
"We're delighted to offer this online booking service to new and existing matchday hospitality guests. We're inviting people to be a part of 'The Club' and hopefully, by widening our online capability in this way, we will be encouraging guests to do exactly that," David Chell, Manchester City's Head of Sales, commented on the launch.
Customer satisfaction for overall matchday experience at the Stadium has increased dramatically in recent years, rising from 72 per cent in 2005/6 to 94 per cent at the end of 2007/8 season.
Outside of the matchday hospitality, the Stadium is fast becoming the venue of choice for major sporting events such as the UEFA Cup Final through to popular music concerts and major corporate and social events from product launches, weddings and Christmas parties.
David Chell, City's Head of Sales concluded: "Consumers can book almost anything online these days, so it was only natural we wanted to add matchday hospitality to the list. We strive to stay ahead of the competition in every aspect of our offer, but most importantly we want to deliver an unforgettable experience for every guest who walks through our doors, on or off match days."
Stadium's award winning match day hospitality facilities, along with special events, can be found at the Manchester City Football Club's website at www.mcfc.co.uk/hospitality or on 0870 062 4141.
ENDS.
For more information contact:
Laura McLaren or Juliet Cort at Freshfield PR: 01772 888400 or email (firstname)@freshfield.com