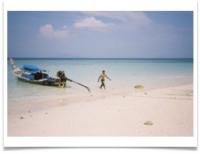 The family-run Thai travel company Andaman Camp and Cruise doesn't let anything get in the way of enjoying sun, sea and sand.
Andaman Camp and Cruise (formerly called Krabi Island Tours) offers tailor-made and unique tours of Krabi in Southern Thailand. The company has been going for nearly six years and is this year offering extended trips for those looking for a holiday to remember.
During the current recession, tourists are looking for a bargain. Living in Thailand is cheap – and always has been. The Krabi region of southern Thailand is still as beautiful and peaceful as ever. And Andaman Camp and Cruise offers its personal service to fit any budget. Andaman Camp and Cruise offers the "real" Thailand – making it the ideal choice if your sense of adventure and spontaneity make package tourism unappealing.
There is no better way to experience Thailand than by staying in a real Thai home in a small coastal village. The family business welcomes visitors to the beauty of the beaches and islands of the Andaman Sea and directly into the family home of Elizabeth, originally from Australia, her Thai husband, Sun, and baby Noah, who is just one year old.
"Between us, Sun and I can answer questions not only about the islands and places we visit, but about all aspects of Thailand." says Elizabeth, who has been in Thailand for seven years. "I think it helps to have a true English speaking guide (me!) who can explain what it is really, truthfully like to live here."
Andaman Camp and Cruise can arrange all aspects of trips, and consults with customers over length, activities, food and standard of accommodation. The company offers a full range of day trips and longer tours of Krabi and the Andaman Sea in southern Thailand.
Visit the Andaman Camp and Cruise website for more information on customised tours of Krabi, Thailand.