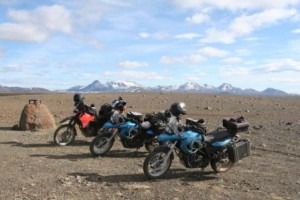 Blue Mountain is the Icelandic motorcycle tours company, offering flexible tour packages, as well as personal guides and all the equipment you could ever need.
Blue Mountain is a fully licensed travel agency and a premium motorcycle tour company in Iceland. The company offers motorbike tours around Iceland, and their standards are set to meet the highest expectations and to guarantee a unique experience in every way possible.
Iceland's incomparable nature is what makes the island nation so appealing to tourists; and the lack of traffic and the challenging terrain are reasons it appeals to motorcyclists as well.
Iceland offers visitors raging rivers, great glaciers, active volcanoes, spectacular mountains and grandiose waterfalls at every turn. It is the ideal place for the biker to experience the adventure of a lifetime.
Blue Mountain tours are a total immersion view of the unique surroundings of the Icelandic countryside. At the same time, travelling around Iceland gives the opportunity to enjoy the warmth of the Icelandic people who are always welcoming towards foreigners and willing to share their heritage and culture.
The BMW motorcycles used have a great history of being trustworthy and easy to handle. Blue Mountain motorbike tours in Iceland feature new BMW F650 GS motorcycles, which are equipped with side luggage cases, heated grips and GPS upon request.
Blue Mountain was set up in 2006 by Sverrir Thorsteinsson and his wife, Herdis. The company's vision is straightforward and clear: "Make each day in Iceland a pure adventure experience and make sure that everyone who visits will have a great time and go home safely and with a smile on their face".
In addition to organised day and multi-day tours, Blue Mountain also provides guides for motorcyclists visiting Iceland with their own bikes.
For further information or to book a motorcycle tour of Iceland, please visit www.bluemountain.is.