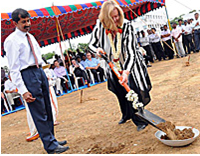 Breaking the ground for a new solid oral dosage plant at Actavis' current SOD site in Alathur, India. Gudbjorg Edda Eggertsdottir, deputy CEO and G. Shankar, Country Manager, Actavis India.
Actavis has announced that three new construction projects are underway at Actavis in India. Actavis' Deputy CEO, Guðbjörg Edda Eggertsdóttir recently broke the ground for a new pilot plant and a new API (active pharmaceutical ingredient) plant at Actavis' existing API facility in Alathur, close to Chennai, India. These new facilities will enable Actavis API Alathur to scale up more products as well as to increase commercial volumes. On the same day, the Deputy CEO also broke the ground for a new SOD (solid oral dosage) plant at Actavis' current SOD site in Alathur. This plant is to be built to international standards and will eventually have a capacity of 4 billion tablets. Construction is expected to be completed in 2009.
Actavis' Executive Vice President of R&D, Stefan J. Sveinsson, has also inaugurated new labs at Ticel Bio Park in Chennai: a stability lab which has been setup as an independent unit to cater to stability requirements within the group. It has a capacity to handle 9000 samples per year; and laboratories for analytical development in connection with Actavis' API R&D activities in Bangalore, India.
Commenting on the new wave of construction, Gudbjorg Edda Eggertsdottir, Actavis' Deputy CEO, said: "The API facility will be the first major manufacturing site for Active Pharmaceutical Ingredients within the Group, and it is an important step for the company in controlling the full value chain of pharmaceutical products. This site will bring us an edge in the industry, will enable us to improve our service to our customers.
"Also with respect to the SOD facility many of our goals for growth in the future are tied to this manufacturing site, where we will produce first class pharmaceutical products for our markets in Europe and elsewhere. When complete this manufacturing site will be one of the largest within the group, and it will be designed and built to the most stringent standards to fulfil the requirements of the regulators."
Actavis currently operates 22 manufacturing sites in 14 different countries.
About Actavis Group
Actavis is one of the world's leading generic pharmaceutical companies specializing in the development, manufacture and sale of generic pharmaceuticals. The company has operations in 40 countries, with 11,000 employees.