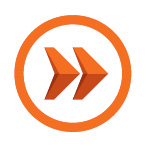 Icelandic budget airline, Iceland Express has launched a campaign called "Colourful Reykjavik" aimed at making visits to Iceland a balance of city chic and country curiosity.
Iceland Express's new "Colourful Reykjavik" campaign is designed to help potential visitors see how exciting Reykjavik is as a city break destination. With its excellent shopping and its pretty wooden old-town to its huge art scene and its geothermal pools, Reykjavik is a formidable match for cities many times bigger.
Tourists have always visited Iceland to marvel at its spectacular scenery and natural phenomena, so Iceland Express has put together several four-day (three-night) packages to help visitors make the best of both worlds.
The Reykjavik Buzz Tour is a great taster of Reykjavik culture mixed with a look at some of the surrounding countryside, including the famous Golden Circle tour and the Blue Lagoon.
The Landscapes and Lagoons tour has a little bit of everything. The trip comprises a good gulp of Reykjavik culture, the Golden Circle and the Blue Lagoon – with the additional thrill of horse riding thrown in. Iceland Express insists that you don't even need to have ever been near a horse before to enjoy the trek.
The other Iceland Express tour is called The Great Escape. The Grand Daddy of the three. Basically as above; but crucially airport transfers are by car, not coach. The Golden Circle tour is in an exciting super jeep and includes a trip to the Langjokull glacier with an optional snow mobile tour.
Iceland Express is the low cost airline connecting Iceland with 19 top European destinations. In its five years of operation, Iceland Express has helped increase visitor numbers to Iceland dramatically.
Iceland Express has no length-of-stay restrictions, no Sunday rule, easy online booking and offers a 50% discount for children under 12 years of age. The airline recently won Best Website Award at the World Low Cost Airline Awards.
For reservations and further information, go to www.icelandexpress.com.