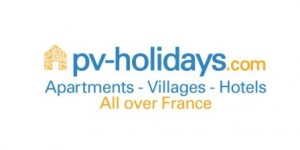 European holiday specialist PV-Holidays has bolstered its portfolio of Parisian properties with the opening of the brand new Adagio City Aparthotel Paris Opéra.
Located on Rue Caumartin in the fashionable Opéra Garnier district and close to many luxury boutiques, theatres and top-class brasseries, the Aparthotel boasts a first class location. The property also benefits from a close proximity to two of the capitals most renowned department stores on Haussmann Boulevard: Galeries Lafayette and Le Printemps.
Adagio City Aparthotel Opéra comprises 99 luxury apartments ranging from two person studios to one-bedroom apartments sleeping four. Each apartment is stylishly decorated and all are air-conditioned. The property also includes an exercise room, wifi Internet access in all rooms and communal areas and even a separate business centre. Prices start from £170 per night for a two-person studio apartment.
PV-Holidays' Adagio brand specialises in serviced apartments in city centre locations and already boasts ten Aparthotels in the French capital. The Aparthotel Paris Opéra is the first to be located in the Opéra Garnier district and its location alongside both the business and shopping district makes it an ideal stopover for both business trips and a long weekend.
With a total of 22 properties in France, Italy and Switzerland, Adagio is PV-Holidays' fastest growing brand and operates as a joint venture with Accor Hotels. The Paris aparthotel comes hot on the heels of Adagio's other new properties in Strasbourg, Basel and Annecy.
About PV-Holidays
PV-Holidays is the number one provider of holiday residences, villages and hotels all over France. It offers self-catering and hotel holidays in France, Spain, Italy, Morocco, Tunisia, Switzerland and the Caribbean through its five brands: Pierre & Vacances, Maeva, Residences MGM, Latitudes Hotels and Adagio City Aparthotel. The vast range includes everything from simple two star budget apartments to multi-activity centres and comfortable four-star residences and hotels with excellent facilities.
Further information
For further consumer information on PV-Holidays, please visit: www.pv-holidays.com or telephone: 0870 026 7144.
For further trade enquiries, please go on http://trade.pv-holidays.com or telephone 01273 560475.
For media information and images, please contact Susie Tempest or Jenny Groutage at The Saltmarsh Partnership on 020 7928 1600 or email susie/jenny@saltmarshpr.co.uk