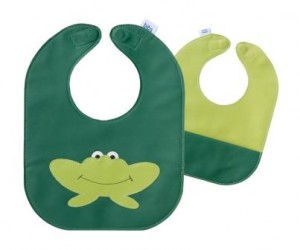 Online boutique www.sarahjane.uk.com offers a new and unique range of luxurious and stylish baby-soft leather bibs, perfect as a Christmas gift for that very special little one with an appetite – or even a lucky expectant mum!
These stunning and durable baby Mally bibs are perfect to make feeding time less stressful and keep your baby looking good when out dining, and have already taken the USA and Canada by storm with celebrity and yummy mummy fans aplenty.
Mouthwatering Style! With a wide range of gorgeous designs from the classically cute to the very trendy, you can even choose a style to complement the baby or toddler's personality or favourite food! Popular designs within the range include the striking 'sushi' bib and the sweet and feminine 'cupcake' design (£19.95).
These baby-safe soft leather bibs are highly durable, easily rinsable and are 100% guaranteed against food stains so means that this will be a gift that will last – and last! As the leather easily wipes clean no washing is needed which also makes them a great environmentally friendly alternative to cotton bibs.
All of the leather bibs are reversible and feature a cute, functional pocket side – perfect for toddler snacktime! The adjustable magnetic clasp ensures the bibs can be altered to fit the average 6-36 month olds so your bib can grow with your baby. The magnet also ensures the bib can be easily attached to the fridge or radiator, so you'll know where it is for next mealtime.
All Sarah Jane bibs are delivered to you or the recipient of your gift beautifully gift wrapped in pale blue and pale pink tissue paper and delivery is currently free for anywhere in the UK for orders large and small. Next day delivery is also available for orders placed before 2pm Monday to Friday at an additional cost – perfect to keep your mind at rest at busy Christmastime.
– ENDS –
For further editorial information, samples, images and requests for interviews contact PR Director Emma at Prodo on 0870 756 2828 or email emma@prodo.com
Notes to editors:
Sarah Jane is the exclusive European importer of the luxury Mally Bibs, the bibs come in a wide range of colours and over 30 designs.
Being made from leather means the bibs do not need to be washed and dried like conventional bibs, instead they can simply be wiped or rinsed clean and they are ready to be used again. This cuts down on washing making the bib an eco-friendly alternative.