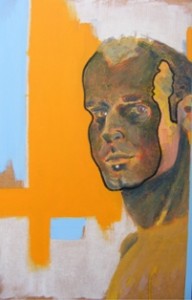 Private View: Friday 7th November 2008 – 6pm to 11pm
Exhibition runs from: Friday 7th of November 2008 to 13th November 2008
Gallery Opening Hours: Sat, Mon to Wed: 2.30 pm – 6.30 pm
Last day of exhibition: Thursday 13th of November from 11am to 5pm.
Five Hungarian artists have come together to exhibit works in an assortment of media including craftworks, painting, drawing and photography. This is an exhibition bursting with life and colour, with each of the artists exploring their subject matter in their own uniquely expressive style. Organised by TUNArts Art Group, this show will have a distinctive Hungarian feel, with traditional folk music and gulas!
After an early interest in working with clay as a child, artist Orsolya Rethy has returned to this dynamic material creating beautiful ceramics which – influenced by her experience as an interior designer – retain their functionality, but now also lean more to self expression as she continually branches out, now even incorporating a more diverse range of materials into her designs.
''It is mixing ceramic with other kinds of material, wood, metal, half-precious stones and wool, that I am the most engaged with at the moment.'' – Orsolya Rethy
George Mihalka is an already very successful exhibiting artist who, although also working on a second collection of poems, now concentrates mainly on painting. He draws mcuh of his inspiration from his time spent in Austrailia, creating images of fantastic landscapes with sweeping forms and vibrant colour.
Ferencz Gnandt has brought together a collection of paintings focusing on man and nature, all created before his recent move to London. His pieces are powerful and emotional with every subject explored individually and expressed through different styles that best represent them.
Passionate about painting and drawing from a very young age, Andras Schein is now on his way to achieving his dreams. His works cover a breadth of subject matter – nature, earth, space, time – using sometimes more abstract compositions to add new meaning and depth.
Csanad Kiss, having worked in professional photography for many years, has now returned to personal work, preferring the freedom to spend more time working with each image to produce stunning results. The collection includes nature photography taken during his travels around the world, as well as still-life, fashion, and portraits.