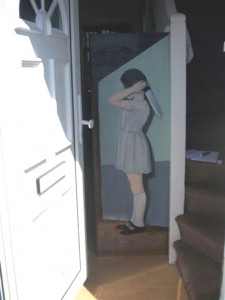 An exhibition of two and three dimensional works by Ivan Biluta Weston
Private View: Friday 31st of October – 6 pm to 11 pm
Exhibition runs from: 31st of October to 6th of November 2008
Gallery Opening Hours: Sat, Mon, Tues, Wed: 2.30 pm – 6.30 pm
Last day of the exhibition: Thursday 6th of November from 11.00am to 5.00pm
Ukranian born artist Ivan Biluta Weston draws much of his inspiration from his own experiences and interaction with the immediate environment and has created a diverse collection of works that are both distinctly personal, yet familiar to us all.
Now living and working in the East End of London, Ivan explains how his ideas develop directly from objects and materials he finds around him, claiming not to be able to resist a 'perfect' piece of wood or plastic found on the city streets. From the spontaneous start to their lives his pieces then seem to grow by themselves – building up over a period of time until they achieve the intended mood.
His paintings focus on dreams and the way we visualize elaborate ideas. He uses a various range of materials including metal and plastic, oil and other painting and drawing media in order to attain a closer link between the viewer and the painting as an object.
With work that comes directly from daily life his work achieves a sense of the immediate that we can all relate to, and a definite honesty, which is intended to result in a deeper connection with the piece and the place it came from.
."I view my paintings and sculpture as a way of commenting on experience of existence in the present times. My current collection entitled 'We are born to make a Fairytale come true' focuses on the depiction of various states of mind created by modern lifestyle."
Ivan Biluta Weston
For further information: www.biluta.com