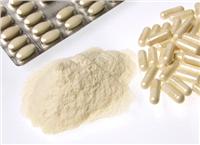 Those interested in weight loss and weight management have found a new ally that helps them maintain their ideal weight.
LipoSan Ultra® is a revolutionary new weight management solution based on natural sea products. Based on existing chitosan technology, the LipoSan team went a step further and made it convenient and efficient for everyday use.
LipoSan Ultra® is a natural dietary supplement for effective weight management. Binding with dietary fats in the digestive system, the product is scientifically proven to significantly reduce body weight in human clinical studies. The main ingredient in LipoSan Ultra® is chitosan, which has been modified and optimised to enhance its solubility and fat-binding performance.
LipoSan Ultra® is so soluble in the human digestive system that it can be taken at mealtimes, instead of 30 to 60 minutes before, like generic chitosans.
LipoSan Ultra®'s manufacture starts with chitosan and ends up as something completely different. Succinic acid, a GRAS (Generally Recognised As Safe) food additive, is incorporated into the chitosan to significantly alter its physical structure. The result is a highly integrated organic acid/fibre matrix that readily solubilises in the equivalent of stomach acid in less than 5 minutes. This is in comparison to regular chitosan that can take upwards of 2 hours to dissolve.
The chitosan used in LipoSan Ultra® comes from the shells of prawns caught by Icelandic fishermen in the cold, abundant waters of the North Atlantic. As a by-product of the food industry, LipoSan Ultra® is a truly natural and environmentally-friendly dietary supplement.
In a world where calorie counting can turn into a confusing nightmare, and getting to the gym every day isn't always an option, LipoSan Ultra® is an important new tool in the seemingly endless struggle for weight control or weight loss.
Visit the Liposan website for more information on LipoSan Ultra natural dietary supplement.