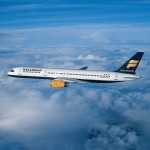 Icelandair's new mobile phone internet service is now live and helping customers get the very best out of their flight experience, including less waiting, advanced seat reservations and high speed baggage service.
A new service is now on offer for Icelandair customers, meaning they can now see live information on Icelandair arrivals and departures and the airline's entire upcoming timetable – all from an internet enabled mobile phone. The new service from Iceland's biggest airline also makes it possible to check in for flights from a mobile and find useful Icelandair telephone numbers, such as baggage services, customer club and the head office.
The ability to find so much information and services from a mobile phone only serves to improve Icelandair's famous customer service still further.
Icelandair customers can now take advantage of this special service from most mobile phones with an internet connection. With the mobile phone service, it is possible to check in for flights from anywhere, up to 22 hours before takeoff.
Boarding passes can then be printed out at the airport self-service check in machines, or at Hilton Reykjavik Nordica Hotel.
Passengers travelling with luggage can sign it in at the self service machines at the airport and receive a ticket for each bag. Once passengers have checked themselves in fully, the bags are taken by Icelandair staff and sent on a special express conveyor. Those without baggage are free to go straight to the departures area.
Icelandair is Iceland's biggest airline and now connects Reykjavik with 24 top destinations in Europe and North America. Using Iceland as a stopover hub, Icelandair frequently offers the cheapest transatlantic flights. Further information on Icelandair, including easy flight bookings, can be found at www.icelandair.net

The mobile phone website address is http://m.icelandair.is. The service is currently only available to those able to understand written Icelandic.