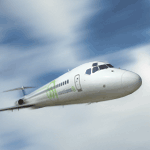 Icelandic budget airline Iceland Express has been shortlisted in a competition for the best website on behalf of the world's low cost airline industry, announced the Budgies.
The other two airlines that Iceland Express is up against are SkyEurope and Germanwings. Over 200 airlines are competing in different categories.
The Budgies have been created to honour and generate public recognition of the efforts, accomplishments, and positive contributions of companies and individuals in the low cost airline industry.
The winner will receive the award at a two day conference – The World Low Cost Airlines Congress – which is taking place on 23rd September and will be accompanied by various workshops led by experts from different airlines.
Iceland Express is the only low-cost airline operating flights to Iceland and has been in operation since 2003. Five years later, the company offers flights to Iceland from 14 destinations around Europe, including Copenhagen, London and Paris.
Visit the Iceland Express website to book cheap flights to Reykjavik, Iceland.