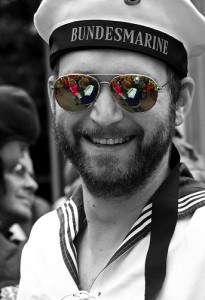 This week is Gay Pride in Reykjavik, Iceland. Already one of Iceland's biggest annual events, 2008 looks to be even bigger and better than ever.
The streets of Reykjavik are gaining colour by the minute. For over a week, excited shop keepers and homeowners have been busy decorating for Reykjavik Gay Pride – and by the weekend, the whole town will be one big rainbow.
Reykjavik Gay Pride organisers call the event "the biggest little pride in the world". And with around 70,000 attendees, it is indeed small compared to Los Angeles or Europride; but in a country of just 310,000 people, Reykjavik Gay Pride is Iceland's second biggest annual event – "biggest little pride" sounds about right!
In 2008, Reykjavik Gay Pride will be an even bigger party than ever, because this year is the 30th anniversary of the Icelandic LGBT organisation, Samtokin 78.
Held in the second week of August every year since 1999, Gay Pride is the annual celebration of Iceland's 'gay revolution'. In just 30 years since the formation of Samtokin 78, Iceland's LGBT community has gone from being a persecuted and almost invisible group to having some of the best social and legal rights in the world.
Reykjavik Gay Pride fever kicks off on Wednesday with several events including a drag contest and various talks and seminars; but the official opening party takes place on Thursday evening at Reykjavik's University Cinema.
The star among the extensive programme of events is undoubtedly Saturday's parade through the city. Bringing much of the city to a standstill, the vibrant parade is the focal point of the whole weekend.
People of all ages and persuasions flock to the parade in their thousands to offer their support to gay rights, and to human rights generally. But with such an exciting and colourful parade, followed by a massive free outdoor concert, it's hardly a chore…
For more information on Reykjavik Gay Pride 2008, visit www.visitreykjavik.is