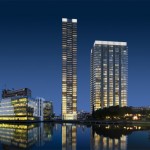 World renowned architects Foster & Partners have unveiled initial proposals for the redevelopment of the City Pride pub site in Canary Wharf. The site borders Young Group's two iconic 31 and 45 storey residential towers, The Landmark, which is the pioneer development of a new residential hub on the western edge of Canary Wharf.
When The Landmark's iconic East Tower completes in 2010, penthouse apartments will be Canary Wharf's highest residential properties, overtaking Ballymore's Pan Peninsular development, which is scheduled to complete shortly ahead of The Landmark.
Neil Young, CEO of property portfolio managers, Young Group, welcomes the Foster & Partner plans; "Although no formal planning application has been submitted as yet, interest in the City Pride site is great news for Canary Wharf and demonstrates the continuing confidence in the area. Foster & Partners' involvement in looking at options for the site and the possibility of another iconic development to complement The Landmark towers will further enhance the area's reputation, desirability as a residential location and property values."
The Landmark and its central public piazza – which is just 400 metres from the heart of Canary Wharf – will be the centre of a growing residential hub at the edge of Canary Wharf and will be a destination in its own right with commercial space suitable for boutique shops, cafes', restaurants and delicatessens. The construction, of a mixed use building of the quality mooted by Foster & Partners neighbouring The Landmark will add to the selection of facilities and amenities designed to cater for the area's swelling number of residents.
The Foster & Partners plans for the 2,525 meter site at 15 Westferry Road are reported to include a 200-bedroom five-star hotel as well as 410 residential units.
Construction of The Landmark is progressing on schedule; the 31 storey East Tower's core reached full height in early July, while the 45 storey West Tower continues to advance skyward. Installation of the advanced floor-to-ceiling glazing system which forms the striking outer skin of both towers is racing ahead, enabling observers to appreciate the appearance of the towers' sleek exterior finish.

Neil Young, CEO – Young Group, is available for interview
(Michael Oakes | Young Group | +44 (0)845 356 1000 | moakes@younggroup.co.uk)
Press Contact:
Michael Oakes t: +44 (0)845 356 1000
Communications Manager – Young Group e: moakes@youngggroup.co.uk
About Young Group
Young Group specialises in providing Property Portfolio Management services to private investors; offering the best off-plan direct investment opportunities in London. Young Group manages the entire investment process from sourcing the opportunities through to financing, furnishing, letting and management.
Young Group owns all the property that it sells and also retains a number of units in each development for its own portfolio. As the principal in every transaction, Young Group does not realise any profits until completion and has transacted in excess of 1,700 apartments, with a retail value of £700 million. The Group's lettings division, Young London, has successfully let the majority of investors' apartments within a week of completion. The Group's portfolio managers liaise with the Young London team in advance of completion to let investors' apartments to quality tenants, often through corporate lets.
• Young Group clients have access to finance products from across the entire market via Young Group's FSA regulated mortgage desk, Young Finance (www.youngfinance.co.uk).
• Young Group's iconic Canary Wharf development, The Landmark (www.TheLandmarkE14.com), has been awarded two Daily Mail Property Awards in the categories of best high rise development and best high rise architecture. The Landmark East Tower rises to a height of 459 ft, making it one of the tallest residential properties in Europe.
• Young Group's COO, Sylvana Young, has just been named Bradford and Bingley's Property Woman of the Year, 2008 for London.
Young Group supports NORWOOD and CHILDREN with LEUKAEMIA, two charities particularly close to our heart, donating £50 per property exchange and providing additional support throughout the year. Visit www.younggroup.co.uk to learn more.
Press Contact
Michael Oakes +44 (0)845 356 1000
Communications Manager – Young Group moakes@younggroup.co.uk