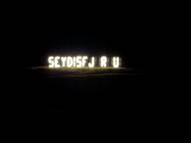 'SEYDISFJ R U ' is a site-specific installation produced by artists Mhari Baxter and Melissa MacRobert as a result of their joint residency at Skaftfell Cultural Centre in Iceland last year.
Expanding from their previous exhibition in Edinburgh's Old Town in March this year, the artists will present a series of light boxes in The Arches, Glasgow.
Baxter and MacRobert studied at the Listahaskoli Islands (Iceland Academy of Arts), Reykjavík in 2006 and last year made a return journey to the small harbour town of Seydisfjordur in the east fjords. It was in Seydisfjordur that Baxter attended a workshop in conjunction with the Dieter Roth Academy- which honours the late German-born Swiss artist who lived and worked extensively in Iceland.
Drawing upon their experience of the people and place 'SEYDISF J R U' explores the life of this small town, so far flung from the hub of Reykjavík.
Mhari Baxter is a graduate from Edinburgh College of Art, currently working at the Warehouse Studios in Glasgow. Melissa MacRobert is currently studying on the postgraduate course Art Space and Nature at Edinburgh College of Art.
For more information on the exhibition and The Arches generally, visit the Arches website.