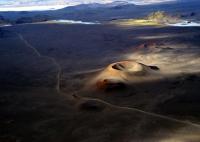 All Season Hotels are experts in welcoming visitors to South Iceland, and the company's new website gives internet users everywhere a taste of what makes the hotels – and South Iceland – so special.
All Season Hotels are uniquely equipped to bring out the best in any trip to South Iceland. Visitors can choose between the luxury of Hotel Ranga and the low-key, low cost comfort of the Hrauneyjar Highland Centre. There's also the intimacy of Hotel Skogar and the unique beauty and excellent facilities of Hotel Highland.
All the hotels have different appeal; but all are carefully managed to show off South Iceland at its best. Just as important is the fact that each South Iceland hotel is located within easy reach of the region's principal attractions; including Landmannalaugar, Mount Hekla and the famous Geysir.
With so much choice and so many options, All Season Hotels saw the need for a comprehensive website – not just to advertise their South Iceland hotels, but also to help potential visitors choose the right one for them.
The new All Season Hotels website is a complete source of information on the hotels and on South Iceland. It is also a source of information on activities and tours that are available to visitors.
Many people go to South Iceland to enjoy the hiking, fishing or bird watching – but there's something for everyone. Glacier trips are popular, as are air tours, white water rafting and even scuba diving. Allseasonhotels.is carries detailed descriptions of these and dozens more activities.
Whether planning a trip to South Iceland in the near future or not, allseasonhotels.is is simply a good place to get a feel for southern Iceland and a fantastic range of photography.
All Season Hotels is the collaborative name for Hotel Highland, the Hrauneyjar Highland Centre, Hotel Ranga and Hotel Skogar in South Iceland. The company works to promote its home region for tourists and business visitors.
Visit the All Season Hotels website at www.allseasonhotels.is for more information on hotels in South Iceland.