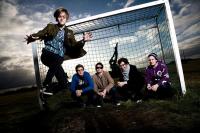 Icelandic band Soundspell have won First Place in the Teen category (for songwriters 18 years old and younger) of the prestigious International Songwriting Competition. The songwriters of the winning song, entitled "Pound," include Alexander Briem, Askell Hardarson, Bernhard Thorsson, Jon Gunnar Olafsson and Sigurdur Asgeir Arnason from the band Soundspell.
While they range from only 17 to 18 years old, Soundspell's music defies their young age. Their fully matured sound blends the pop sensibilities of bands like Coldplay and Muse run through the blender of more adventurous bands like Radiohead and Sigur Rós.
In less than a year together Soundspell have developed a strong catalogue of songs, performed on national television and radio, signed their first record deal and have begun to create a small underground buzz internationally.
They attracted the attention of Los Angeles based producer Ronan Chris Murphy (King Crimson, Ulver, Terry Bozzio, Steve Morse…) who traveled to Reykjavik in the summer of 2007 and teamed up with Icelandic producer Albert Asvaldsson to record their first album, An Ode to the Umbrella, which was released on Tuddi Records in Iceland and is currently being shopped to larger labels in the United States and Europe.
"Pound" is the band's first single and is already receiving significant airplay in Iceland. In addition to the regular prizes offered to all First Place winners, Soundspell win a full scholarship (tuition and room and board) to the prestigious Berklee College of Music's five week Summer Performance Program in Boston, MA, USA.
Visit Soundspell's MySpace and have a listen to their winning tune.
Pic by Leó Stefánsson