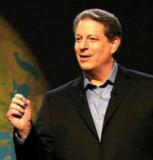 Al Gore will be the keynote speaker at an open meeting on environmental issues to be hosted on April 8th in Reykjavik, Iceland.
The former vice-president of the United States and Nobel Prize winner is scheduled to visit Iceland on 7 – 8 April as a guest of Icelandic President, Olafur Ragnar Grimsson.
Larus Welding, CEO of Nordic bank Glitnir, says that the meeting with Al Gore is related to the bank´s overseas efforts to promote its expertise in the field of sustainable energy resources.
"Glitnir is at the forefront in international financial services for geothermal energy projects. We are already engaged in a number of exciting ventures in the United States with leading companies in this field. The Bank has obtained considerable attention among numerous parties who are participants in the public discourse on sustainable energy resources, one of them being Al Gore," said Mr Welding.
Mr Welding said the meeting with Al Gore is important in light of Glitnir's progress in the field of renewable energy resources, which offer numerous opportunities, particularly with the high price of oil seen in recent months and years.
"Al Gore is one of the world's most influential people of our times in environmental matters. It is therefore important for us to provide him with an insight into our work and the know-how possessed by Icelandic companies in the field of sustainable energy," he added.
The meeting will take place at Haskolabio in Reykjavik, Iceland on Tuesday 8 April at 8am.
Participants can register for the event on Glitnir's website at http://www.glitnir.is/.
Visit Glitnir´s international website for more details on the bank´s expertise in sustainable energy resources.
About Glitnir
Glitnir is a niche player in three global industry segments: sustainable energy, seafood / food and offshore services vessels, as well as offering universal banking and financial services. The Glitnir group is based in Iceland and Norway and also operates in Sweden, Denmark, Finland, Luxembourg, Russia, Canada, China, the UK and the US.
For more information on the meeting, contact:
Mar Masson
Executive Director, Corporate Communications, Glitnir
Tel: +354 440 4990, Mobile +354 844 4990
mar.masson@glitnir.is
International Media Contact:
Bjørn Richard Johansen
Managing Director, Corporate Communications, Glitnir
Tel: +47 47 800 100
brj@glitnir.no